---
STOCK MARKET PORTFOLIO
---
The Faster and Easier Way to Manage your
Investment Portfolio
No Hassles, No Toils. Just Faster & Better Investment Decisions.
---
---
Are you tired of dealing with the hassles of accounting your day to day trading activities?
What if you could just import your broker bills and let the software automate the further process for you?
Yes, you read that right. Say goodbye to the daily hassles of managing your trading account activities with this stock market software. No software experience or accounting knowledge is required to operate this software. Even a first time investor with no knowledge of accounting can use Invest Plus to save time & keep a track of your investments & securities. This share accounting software lets you know where your money is and where your money goes. Get a clear picture of your short term & long term capital gains and smoothen your taxation process within just a few clicks. With Invest Plus, get your investment information faster than ever before.
Import Your
Broker Bills
---
Importing the broker bills is one of the most prominent features of this stock market accounting software. Not only does it help you get rid of manual mistakes but it enormously saves your time & energy, making it a great investment management solution to rely on.
The only share accounting software in the market that gives you the option of importing your bills from your broker.
Save yourself time & ensure accuracy by importing the broker bill in just a click.
No more physical maintenance of your stocks. Now you can maintain & keep a track of all your investments digitally.
 Easily generate reports and charts for your clients, investors, or auditors.
Automate the accounting process. Once imported, this share accounting software creates all the necessary ledgers required for share accounting.
Reflection of short term or long term capital gain in the final accounts.
Know where you stand in the stock market share of a particular scrip.
Record Major Details
through Masters
---
Invest Plus is designed to be used by accountants and non-accountants alike. It has an intuitive and easy to use format that allows users to record share transactions in a few clicks. You can key in scrip details and then Invest Plus does the rest of the work for you. With this share accounting software, you can record all your scrip transactions in a few minutes.
Scrip Master: The scrip master lets you enter details the BSE code, NSE code, name of the scrip, ISIN number, security type, face value, industry  & much more. You can search & edit existing scrips in from the scrip master as well. 
Portfolio: This section allows you to add any scrip into your portfolio. You can manually add a scrip from the list of scrips provided in the software. Similarly, a scrip can be removed from your portfolio as well. 
Broker Master: This section allows you to enter the broker name for the specific portfolio, set the brokerage calculation to manual or auto, set brokerage rates for different transactions (intraday brokerage, future brokerage, option brokerage, etc) along with basic details like address, contact number, etc.
DEMAT Master: It allows you to maintain & manage all the Demat accounts that you use for your transactions. Manage details like DP name, joint holder & nominee name, if any, D.P ID number, Client ID number, address, contact number & contact person for a specific portfolio. 
Corporate
Actions & Reports
---
Invest Plus has been trusted by more than 15k+ users when it comes to recording corporate actions like  Merging scrip, demerging scrip, splitting shares, and much more. Invest Plus is the ideal tool for all kind of investors and financial professionals.
This feature allows you to:

Merge scrips
Demerge Scrips
Split share price
Record Bonus received
Transfer stock from one Demat to other
Record Share Dividend

View history of previous merger or demergers, bonus or dividend received.
Generate dynamic reports for all the corporate actions mentioned above.
Become your own CA with this stock market accounting software.
This software has proven be a handy tool for investors as well as market leaders.
Advanced
Reporting
---
We at Invest Plus Software believe that having an accurate track on your share portfolio is imperative to your financial health. This stock market accounting software generates dynamic reports and gives you a detailed breakdown of your shares. The software has exclusively been designed for share investors saving them time & energy.
Know your scrip status, scrip rate summary report, opening & closing stock of the scrips.
Generate share trading report based on FIFO method.
Determine share speculation income along with short term & long term capital gains.
Estimate your current valuation, status of your current IPO application & allotment and share buyback report as well.
Generate reports like:

Investment Report
Industries Report
Broker Bill Summary Report
Portfolio Wise Gain Report
Advance Income Tax Estimation
Monthwise Scrip Purchase Sale Report
Automate share accounting process with this powerful & scalable tool. Invest with Confidence. 
---
Streamline the way you
manage your portfolio.
IPO Share Management
Effortlessly manage your share application and share allotment entries with this module of Invest Plus. Furthermore, generate share application & allotment reports for a quick analysis of your portfolio.
Get Current Valuation
Calculate your speculation income (short term/long term capital gain) by updating the daily rate according to BSE & NSE in just a single click. Update rates and make better investment decisions.
Share Buyback
Conveniently record your share buyback entries with Invest Plus. Record all details of the scrip that has been bought back, the demat name, quantity, price along how the payment has been received.  
Cost Inflation Index
This feature allows to enter cost inflation index of any particular year which would affect the long term capital gains. Efficiently & accurately calculate capital gains for your technical analysis as well as taxation purposes.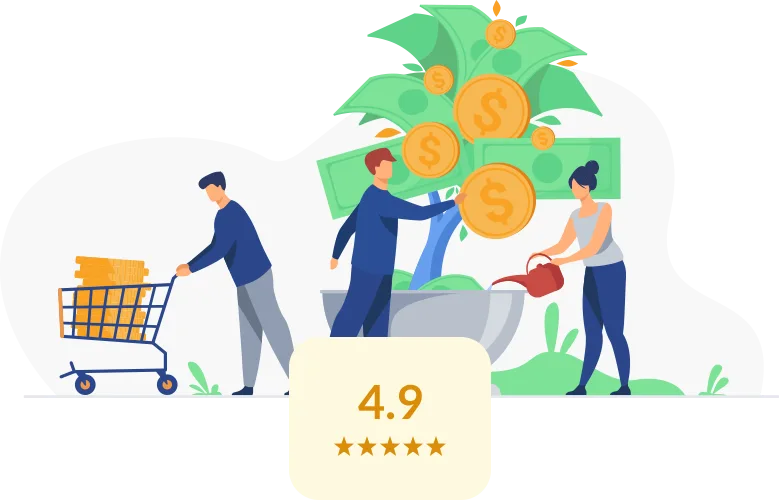 Start now and
make your finances clear and organized
---