---
FIXED DEPOSIT & BONDS
---
The easiest way to manage your

Fixed Deposits & Bonds
(with fixed deposit calculator)
An intuitive software to manage your investments in a powerful, yet simple way.
---
---
What if you could know where you stand in an investment and
easily track your investment details?
Manage your entire investments from one place to ensure efficient financial management. This fixed deposit software covers all your basic bank products like FDs & Bonds and lets you create your own investment portfolio. It helps you track your current investments, analyze performance and generate chart & reports. The software shows you the values of your FDs and bonds in real time. It lets you see the interest earned on your investments over the years, as well as the growth of your current fund. Make smart investment decisions with this Investment Management Software.
Record & Manage your 
Fixed Deposits
---
Fixed Deposits are a great way to invest your money.  But when you have numerous Fixed Deposits, it can be difficult to keep track of all of them, and to make sure that you have a note of your interest accrued. That's where this Fixed Deposit Management Software comes in.
All in one software for managing your FD's and bonds.
Easy-to-use and user-friendly interface that makes your fixed deposit, certificate & bond management a cakewalk.
Effortlessly lets you enter details of name of the holder, name of joint holder, name of the nominee, FD number, name of the agent, name of the scheme and much more.
Flexible to use. You can search the records based on various criteria (e.g. account number, date of maturity etc.)
Complete solution that allows to enter details like FD renewal entry, FD maturity entry with automated interest accrued and received calculation.
Add, modify & delete the records with just a few clicks.
Fixed Deposit
Interest Calculator
---
Interest calculations on your fingertips! One of the key features of Invest Plus is the Fixed Deposit Calculator (FD Calculator). Save yourself the time & energy needed to manually calculate the accrued FD interest. This software let's you do it all swiftly.
The software allows you to calculate your FD interest in a few clicks. 
You can calculate interest based on accrual or maturity.
Calculate interest based on time period - monthly, quarterly, half yearly or annual. 
This deposit calculator also calculates on the basis of simple interest & compound interest. 
Just enter the interest rate, number of days & months until the time of maturity, and let the software calculate the FD interest for you. 
Manage your
Certificate & Bonds
---
Save your time and energy that you put in to record, manage, maintain and grow your investments. Invest Plus is an excellent option for the individuals & investors who wants to keep a track of their investments on a single platform. As compared to physical records, the software maintains the records in a digital way.
The software has a very efficient accounting platform that provides you with detailed reports of your bonds & certificates investment.
Invest plus software can help you generate your certificates & bonds maturity values as well.
It's a powerful software that allows you to record all the basic details like certificate name, holder name, joint holder name, scheme name, nominee, post office and agent name.
Easily record the certificate number, amount of certificate, certificate date, maturity period as well as maturity value.
The software has pre-defined certificates and lets you create new ones as well.
The advanced feature helps you to keep a track of all your bonds & certificates.
CLICK HERE

Kisan Vikas Patra
National Savings Certificate
National Savings Scheme
Public Provident Fund
Recurring Deposit

to see a list of Certificates included in Invest Plus. 
Generate
Fixed Deposit & Bonds

Reports
---
Get a quick and complete view of all your investments under one roof. Invest Plus software helps you enhance the return on fixed deposit, bonds and certificates. It helps you generate various reports on the investment that helps you make better and smarter investment decisions.
Gives you a clear picture of your bonds & certificates.
It will help you to take a decision on the right time to sell your bonds & certificates.
Generates Fixed Deposit reports including details like FD value, interest rate, time period, maturity value and much more.
Generates fixed deposit withdrawal report. 
Spend less time managing physical records and more time improving your finances.
Provides you with all the information you need to make your investment decisions.
Generates company wise fixed deposit reports.
Analyze the performance of your investments with this software.
Generate
Interest

Reports
---
Built with advanced features, this software helps you stay on top of your investments by autogenerating interest reports for you. This is a simple, yet powerful, auto-generated report that tells you where you stand with your investments.
Know how much of your interest is accrued on fixed deposits.
Calculation of fixed deposit interest report.
Generate a complete interest report on a monthly, half-yearly or annual basis.
Reduce errors in calculations and documentation and eliminate manual revision of data entry.
Get detailed ledger of your interest account.
The software enables you to generate Reports, Graphs and other required documents.
Take control of your investments. Make right decisions at the right time.
---
It's Time to Make Smarter & Informed
Investment Decisions
Maturity Due Date Reminders 
This software is one of its kind in the market that serves to remind you the maturity date of your fixed deposits time to time. It lets you set reminders a week before maturity, 10 days before maturity, or a custom date.
Renewal of Fixed Deposits 
This software allows you to swiftly enter your fixed deposit renewal details so you can easily track and know the status of your financial assets. Never delay another renewal with Invest Plus.
Auto Interest Calculator 
If you have been finding the interest calculation a tedious task, worry not. Invest Plus's FD calculator automatically calculates all the interest that is accrued and received for the specific fixed deposit saving you time & effort. 
Dynamic Reports 
With Invest Plus, stay on top of your fixed deposit, certificates & bonds by generating all kinds of report. Take charge of your financial future with this Investment management software.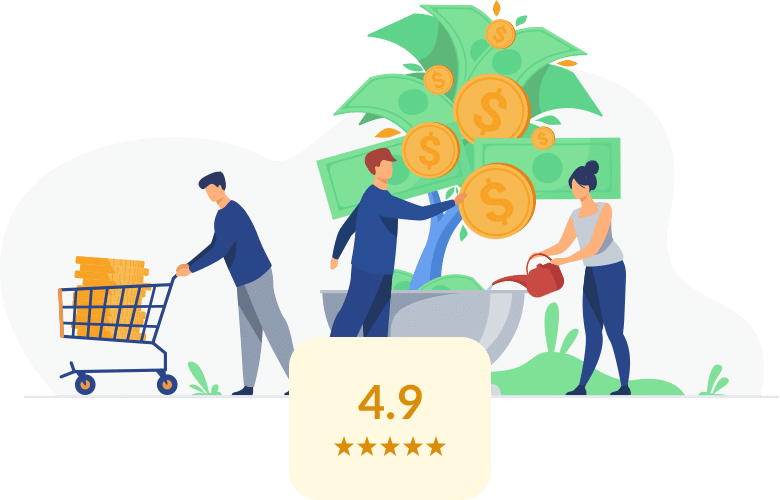 Start now and
make your finances clear and organized
---