---
INSURANCE & POLICIES
---
Your Personal Insurance Manager For

Better Organization.
Get a 360 degree view of your all insurance & policies with this all-in-one Insurance Policy Management Solution
Lost control of your insurance management?
Take it back.
Managing your insurance policies has never been easier. Invest Plus is designed to make managing your insurance portfolio easy and efficient. Whether it's you or a family member, we are able to manage all your policies in one place. The software generates all types of reports with various variations so you can easily analyze the performance of your portfolio. View and track all your insurance policies in detail and stay up to date with all premium due dates and upcoming policy renewals. Not only does this policy management software keep a track of your policies but it helps you set premium due date reminders to avoid delay in payment of premiums. 
Complete
Policy Management

Software 
---
With the help of Invest Plus, you can have a complete record of all your investments and policies. You will be able to view them in one place with ease. You can keep an eye on the details of each policy. With an easy to use interface, this software can be used by anyone.
Invest Plus provides a user friendly interface that makes it very simple to navigate through its features.
The software displays all information related to your investment portfolios and insurance policies.
The main screen shows all your policies along with their respective details.
It lets you enter all the details relating to the insurance & policy.
This desktop software helps in document management of all your policies.
Types of policies include moneyback policy, one time policy & periodic policy. 
Premium
Due Date & Maturity

Reminders
---
You don't need to worry about forgetting to pay your monthly premiums as our system automatically sends out notifications when they're due.Never miss another premium due date with this insurance policy management software.
This software allows you to get reminder alerts for any pending renewal of your policies.
It allows to set premium due date reminders, which can be used on your dashboard. 
This insurance management software lets you set maturity reminders of your policies. 
Stay updated in advance in case you have to renew your insurance. 
It's a single solution for all types of insurance, including life and health insurance.
Payment History Tracking - keep track of every premium paid
Insurance & Policy
Reports
---
Invest Plus makes it easy for independent agents to streamline their insurance business and consolidate reports to manage their lines of business. This Insurance Policy Management System is the perfect solution to run a life insurance agency.
Generate policy reports with all the minute details related to your insurance.
The reports include company name, policy name, policy date, maturity date, installment value along with time period.
Generate policy reports in pdf format which can be easily shared across email clients like outlook etc.
You can also print this report as well. This feature will come handy when you are dealing with multiple policies at one go.
Generate category wise reports:

portfolio wise or group wise
display listing according to portfolio, policy date or maturity date.
according to policy date or maturity date
 For
Insurance Agents
---
Manage your clients portfolio, simplify your daily operations and internal processes with Policy Management Platform. Accelerate your business growth in the insurance industry with the key features of Invest Plus. Provide better financial services and improve your customer satisfaction. 
Multiple portfolio management being the common feature of this software.
Maintain accounts of entire policy lifecycle including payments, claims, renewals etc.
Smoothly carry out your business operations with this policy management tool.
This management system will help you increase customer relationship.
It is a complete solution for insurance agents to manage their client's policies in an easy way.
Provides detailed reports on every aspect of policy such as premium amount paid/due, claim status, renewal date etc.
Stay on top of your insurance and policies. Manage Better. Plan earlier.
Multiple Insurance,
One Feature.
Types of Insurances that you can record in the software:
Accident
Individual Accident Insurance
Life
Term insurance
Moneyback policy
Whole life insurance
Child Insurance Plans
Retirement Plans
Medical
Medical Insurance
Individual coverage
Critical Illness Plan
Personal Accident Plan
Vehicle
Private Car Insurance Policy
Two-Wheeler Insurance Policy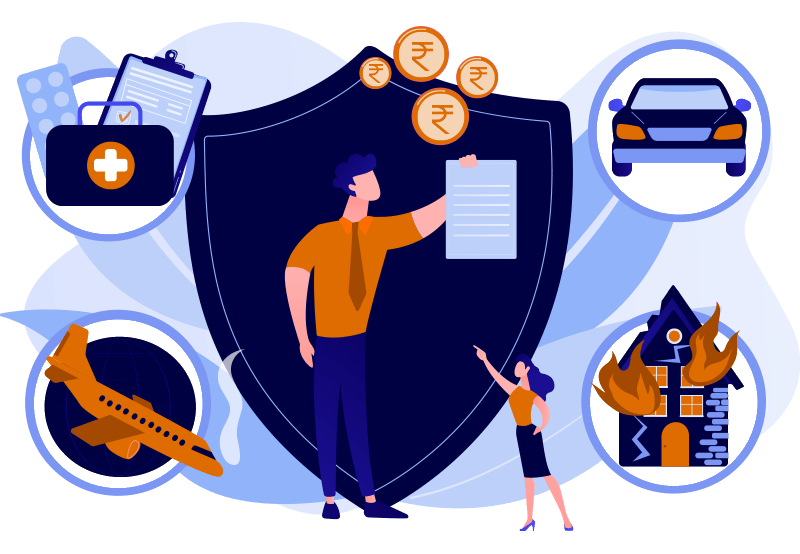 Start now and
make your finances clear and organized
---