Share Application
you can keep a record of the application that you have done for any shares , you can have all the details that you want entered in this module. further you can also search for any of the shares application that you have done through this module.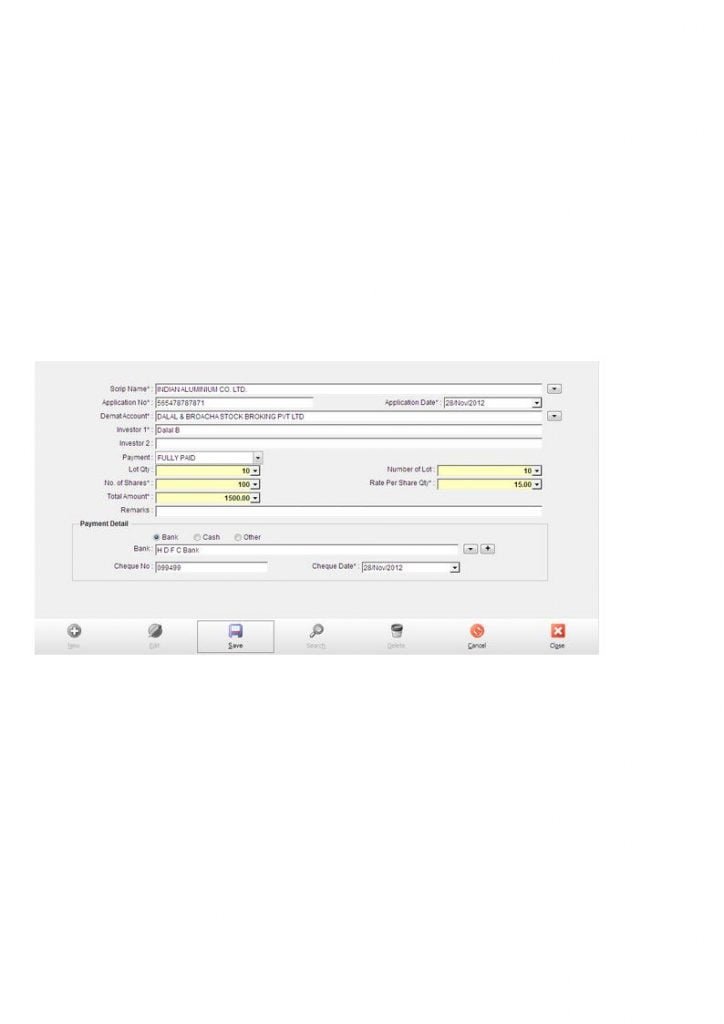 Scrip Name
Select scrip name here.
Application No
Enter share application no.
Application Date
Enter application date.
Demat
Select demat account of share application.
Investor
DHere default current member as investor.
Payment
Here you can select payment type of share application.
Fully Paid: You paid fully amount of application.
Partly Paid: select if you paid partly payment.
ASBA: When pay share application amount at time share allotment.
No of Shares
Enter share qty.
Rate per share qty
Enter rate of share qty.
Payment Detail
Here you can pay from Bank,Cash, Other account select as per payment.
Account
Select payment account
Trans/Chq No
Enter date of transaction
Share Allotment
You can have the details of the allotment of the shares which you receive from the applications done over here.
| | |
| --- | --- |
| Application No | Select share application no. |
| Payment Detail | If you payment type in share application ASBA then here you can specify payment detail else show here share application payment detail. |
| Allotted Date | Enter share allotted date.. |
| Allotted shares | Enter share allotted qty. |
| Allotted Rate | Enter allotted share rate of per qty. |
| Allotted Amount | Calculated amount show here. |
| Refund Account | Here you can select refund account if share allotment not per share application. |