Manage your Portfolio and Assets efficiently
Simplified Personal Accounting with single click
Personal, Multiple & Family Financial management
Manage Loan & other liabilities effortlessly
Get 300+ Customized detailed reports on the go
Online rate updated balances with Zooming facility from Final Account Statements to Voucher Entry level with Edit/Delete facility.
Safe and secured data record with editing facility
Warning:

Do not read this if you already know the answers to it!
Is managing your portfolio and personal accounts becoming a tedious job?
Are your financial records up-to-date to file Income Tax Returns?
Are you able to keep a track of your capital spending this year?
Did you miss out on important dates like policy reminders & financial alerts etc?
Is it possible to get the valuation of your current portfolio in single click?
Are you able to keep a track of your Insurance policies, FD's, Loans & other Investments?
Is creating broker bill (share Accounting) entries manually becoming extremely time consuming?
Are you looking for something to help you out with the use of graphs & charts while managing your finances?
Need an easier way to manage accounts for you and your family.
Want to Follow the volatility of the Stock market PROFITABLY along with your DEMAT accounts?

Introducing INVEST PLUS – Now Anyone, No Matter How amateur in Financial Management and Accounting, Can Manage their Finances and Family Investments in just 15 minutes a week!

"The FASTEST and the SMARTEST way of Managing, tracking and Accounting your Investment."
What you're Looking at Is India's Most Powerful
Wealth Management software!

It is Revolutionizing the Way you can manage your Wealth in 2019-2020 Using
Top-of-the-Line Features
Still not convinced?
Find out more about its detailed features!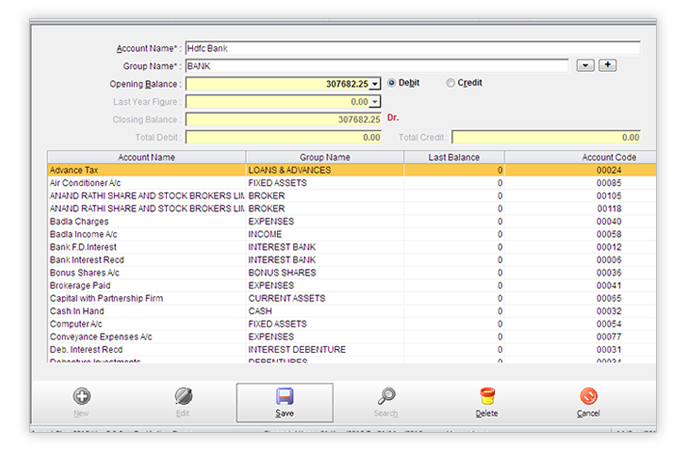 Accounting
Invest plus makes
personal accounting
everyone's cup of tea. We made the difficult accounting much easy with all the features and you can manage it without any professional help.
InvestPlus Software Gives facility to maintain all the details of accounting and recording transactions "Just Import your Bank statement and all work done in 2 clicks"
Daily Entry

Bank Receipt/Payment
Cash Receipt/Payment
Contra/Journal Entry
Credit Card Entry
Multiple Bank/Cash Entry
Multiple Debit/Credit Entry

Annual Statements

Trail Balance
Income & Expense
Balance Sheet
Accounting Reports
Bank/Cash Books
Bank/Cash Summary
Monthly Summary
General Ledger
Journal Register
Groupwise Report
Trail Balance
Budget & Financial analysis
Invest Plus makes it easier for you to achieve larger financial goals. By always knowing your overall financial status it will take care of small details and will help you to estimate your budget plan and other expenses.
Budget
Budget compare with actual
Graph
Budget Summary
Compare Accounts
Investment Graph
Industries wise Graph
Future Estimation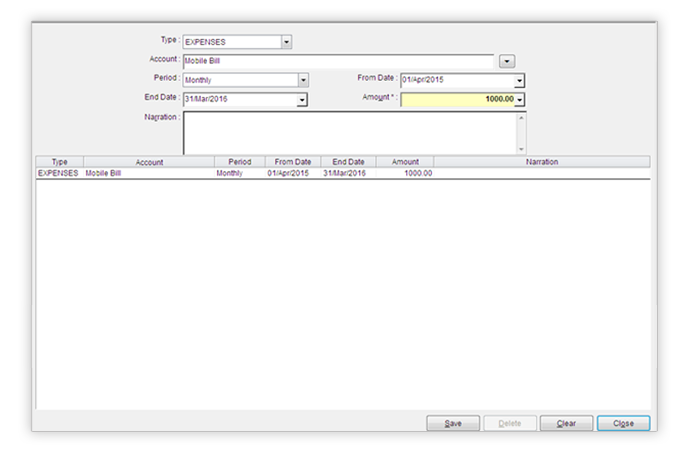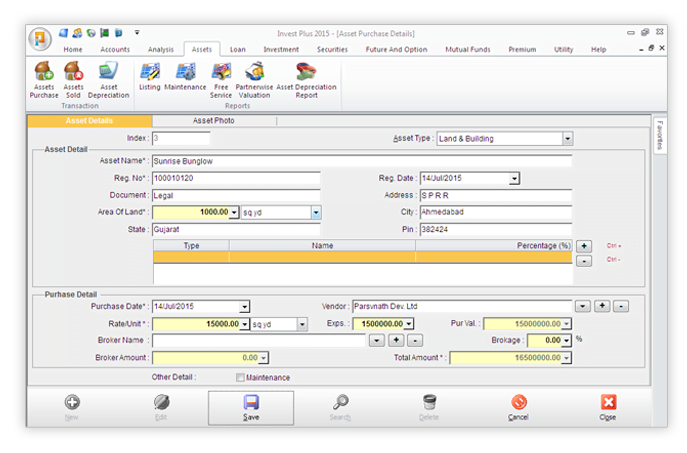 Asset management
Get a clear picture of all your assets and create a detailed report of depreciation, maintenance, valuation, listing etc. in a single software. Manage your assets well. Keep yourself updated with each and every single detail of your assets along with its depreciation in Invest Plus.
Assets Purchase/Sell
Assets Depreciation
Assets Maintenance/FreeService
Assets Listing Report
Assets Maintenance Report
Assets Free Service Report
Partnetwise Valuation
Assets Depreciation Report
Loan and Mortgage
Manage loan and mortgage effortlessly. Invest Plus lets you avoids the biggest mistake in investment and provides automation in all your entries. Select the monthly transaction and loan payment and manage everything.
Loan Borrowed / Lended
Manage Loan Against Assets
Manage Loan Installment with calculation & reminders
Auto linking of payment to account
Detail Reporting
Assets Mortgage Loan Report
Ledger Interest Calculator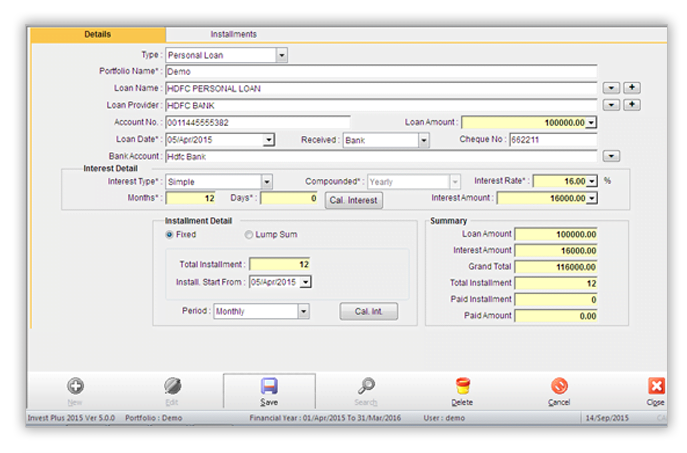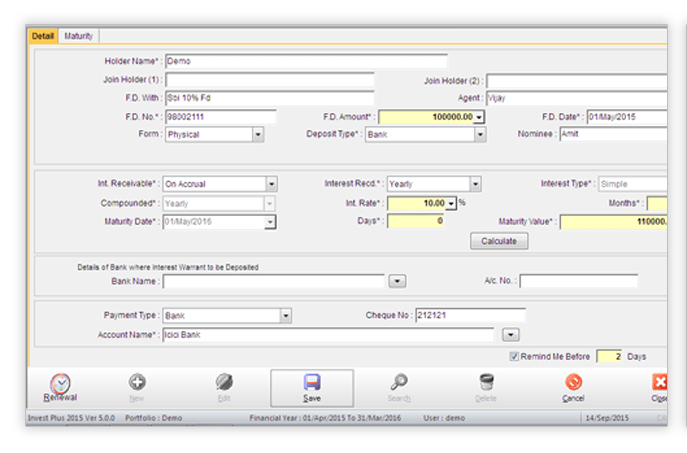 FD, Bond and Insurance
Managing your Fix deposit and insurance policy of your family doesn't seem easier but Invest Plus makes the easy. It covers all your basic financial transactions or any deposits and provides you more output in less entries. Get clear picture of your investment with advance reporting including due date reminder and accrued report.
Fixed Deposit
Certificate & Bonds
Insurance Policies
Auto Linking of FD Interest receipt to account
Auto Linking of Insurance Installment payment to account
Auto reminder for Premium Due date
Fixed Deposits Interest Accrued Report
FD Withdrawal Report
Company wise FD Report
Certificate & Bonds Report
Policies Report
Stock market
We have made it easy for you to
manage your stock market as the software
takes care of all your transaction report. Invest Plus is smart enough to record all reports and provide it to you when needed. Directly import broker bill from 400 brokers with 2 click and it's done.
Transaction

Opening Stock with excel file import
Broker Bill
Broker Bill Import
Merge Scrip

General Reports

Scrip Status
Share Trading
Short / Long Gain Report
Speculation Report
Advanced Report



Monthly Scripwise Purchase Sale Report
Negative Stock List
Monthly Profit Analysis
Odd Sale List

Action Report

Merge Scrip Report
Demerge Scrip Report
Split Scrip Report
Bonus Scrip Report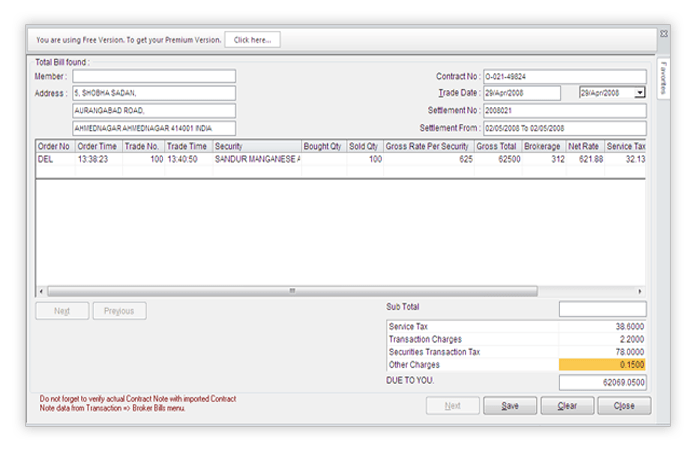 Future & Option
Toughest part is to manage F&O accounting, we made it simple by just importing contract note in to software, and software takes care of rests.
Trade Master
Select F&O Trade
F&O Opening Stock
F&O Bill
F&O Bill Import
F&O Rate
Trade Status Report
Current Holding Report
Speculation Report
Valuation Report
Opening Stock Report
Mutual Funds
Manage your mutual fund without any entry directly import data from your mutual fund provider, you don't have to be expert to manage your SIP records and ledger accounts, Daily NAV update gives you mutual fund portfolio valuation.


Mutual Fund Import

Common Excel File Import
CAMS File Import

Mutual Fund Master
Opening Mutual Fund
Purchase Mutual Fund
Investment Plan (SIP)
Sold Mutual Fund
Switch In Mutual Fund
Mutual Fund Dividend (Reinvestment)
Mutual Fund NAV
Fund Staus Report
Opening Stock Report
Purchase Report
Sale Report
Stock Report
Gain Report with Percentage
Valuation Report
Investment Report
Switch In Report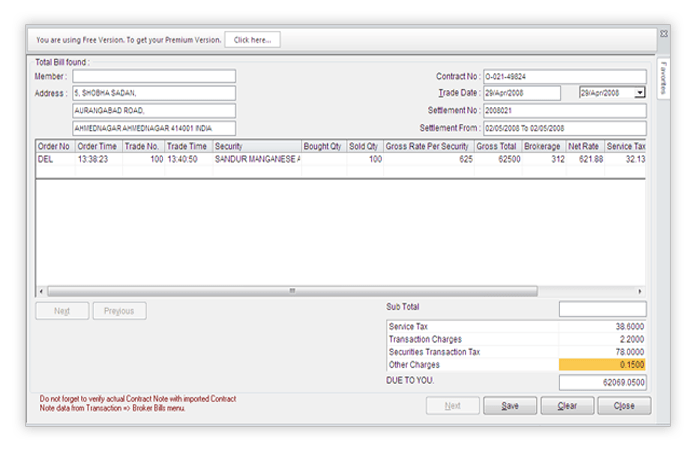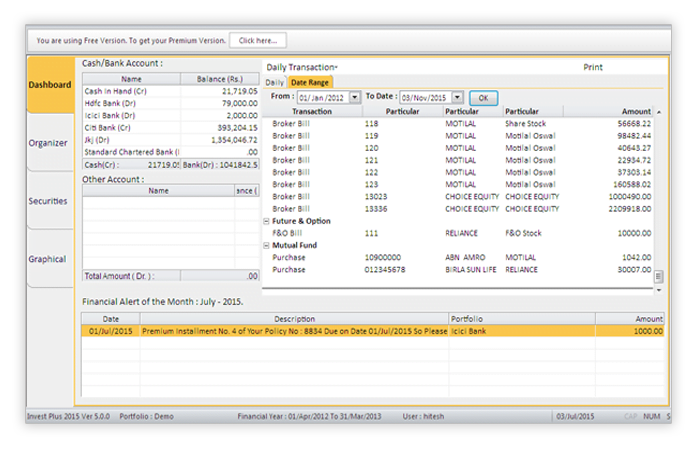 Other Useful Features and Organizer
Besides these Invest Plus also provides other features as a bonus to the users. Without any professional help an armature can also handle invest plus and feed their information in it.
Backup / Restore data
Copy Account Master
Delete Multiple Transactions
User Master with User Right & Favorites Shortcuts
Full Detail Help File
Do you have more questions?
We will help you answer those!
INVEST PLUSTM covers all areas related to Finance, ensuring you don't miss out anything
Complete analysis of current assets & liabilities, Personalized Investment tracking for individual and family
Simply manage cash flows by compiling all IP links from all of your financial institutions
No more wondering about where did the money go, Find out about hidden spending and recover maximum of your income from it.
Accounting benefits like Full Cycle Bookkeeping , Financial Statement Preparation , Cash-flow Analysis, General Ledger, Bank Reconciliation, Asset Management and Valuation, Loan management, Securities, F&O and mutual funds Status, Organize Personal Information and Scheduling, Upload broker bill & statements.
Keep yourself updated by downloading periodical Updates easily
Importing your Broker and F & O bills is just a click away. INVEST PLUSTM supports More than 50 broker house bills, letting you save more time by avoiding manual entries
Hands on facility to Export all reports & balance-sheets in user friendly formats (Excel &PDF) or direct print without exporting.
Facility to download Script rates, M.F., and F & O from internet to calculate your current gain valuation.
All these are combined to create 360o view of your FINANCIAL PLANNING and investment by generating 300+ reports by just giving 15 min per week.
You must be wondering how much data entry will I have to do to get all this done?
INVEST PLUSTM is almost entry less Software.

How?

All you need to do is insert the basic details, feed in the relevant information and your financial record is just one click away.

You can import all your Stock market data Broker bills, Bank statements, Mutual fund data in just one click. It supports 300+ Stock market Brokers, 30+ banks and other formats.

You CANNOT Get This Easy, Powerful Technology Anywhere Else for such an unbelievable price!
Just imagine, What if you had to buy Individual software for each feature? Have a look at it!
| | Total |
| --- | --- |
| Accounting | ₹5,000 |
| Loan & Asset Management | ₹2,500 |
| FD+Policy+Insurance | ₹4,000 |
| Stock Market & Mutual Fund | ₹7,000 |
| | ₹18,500 |